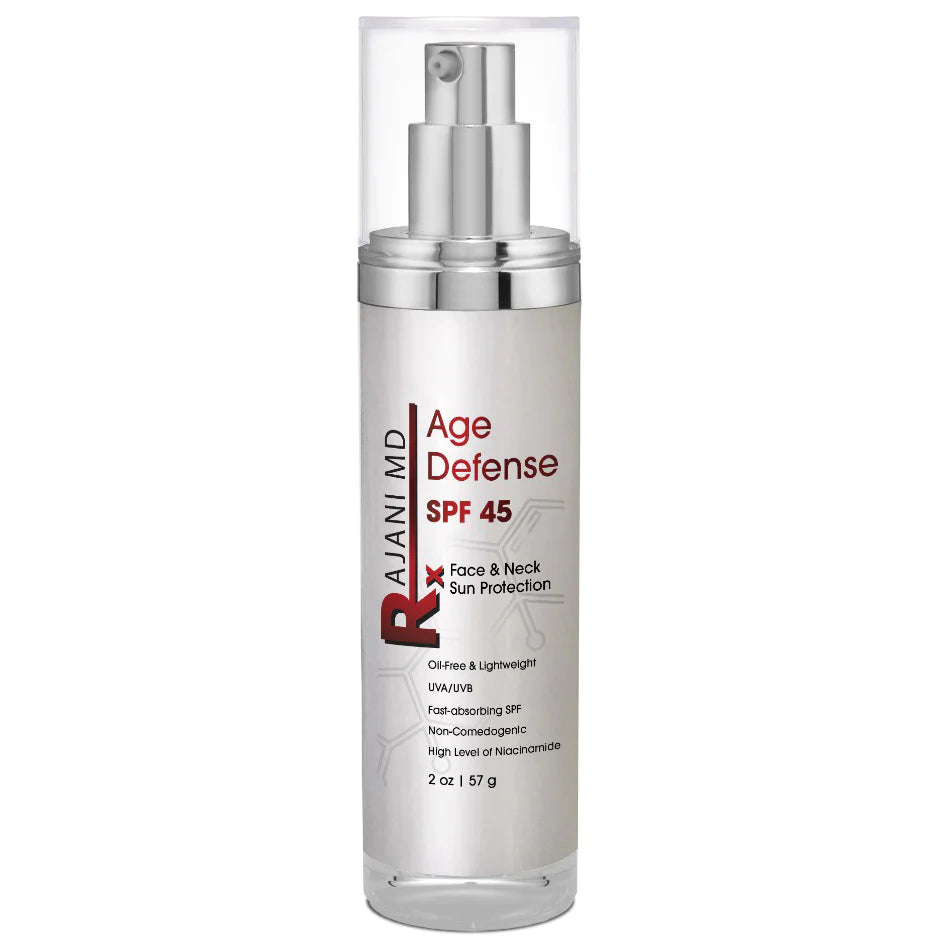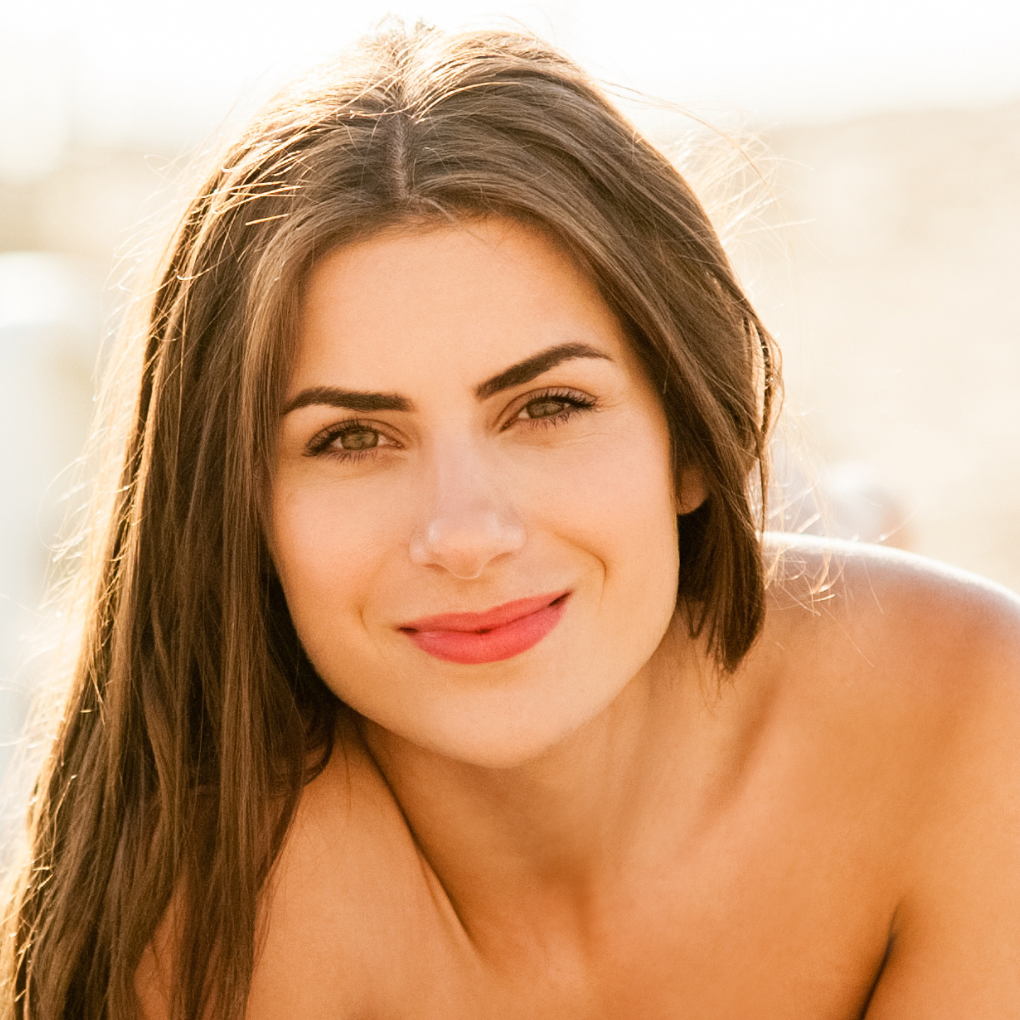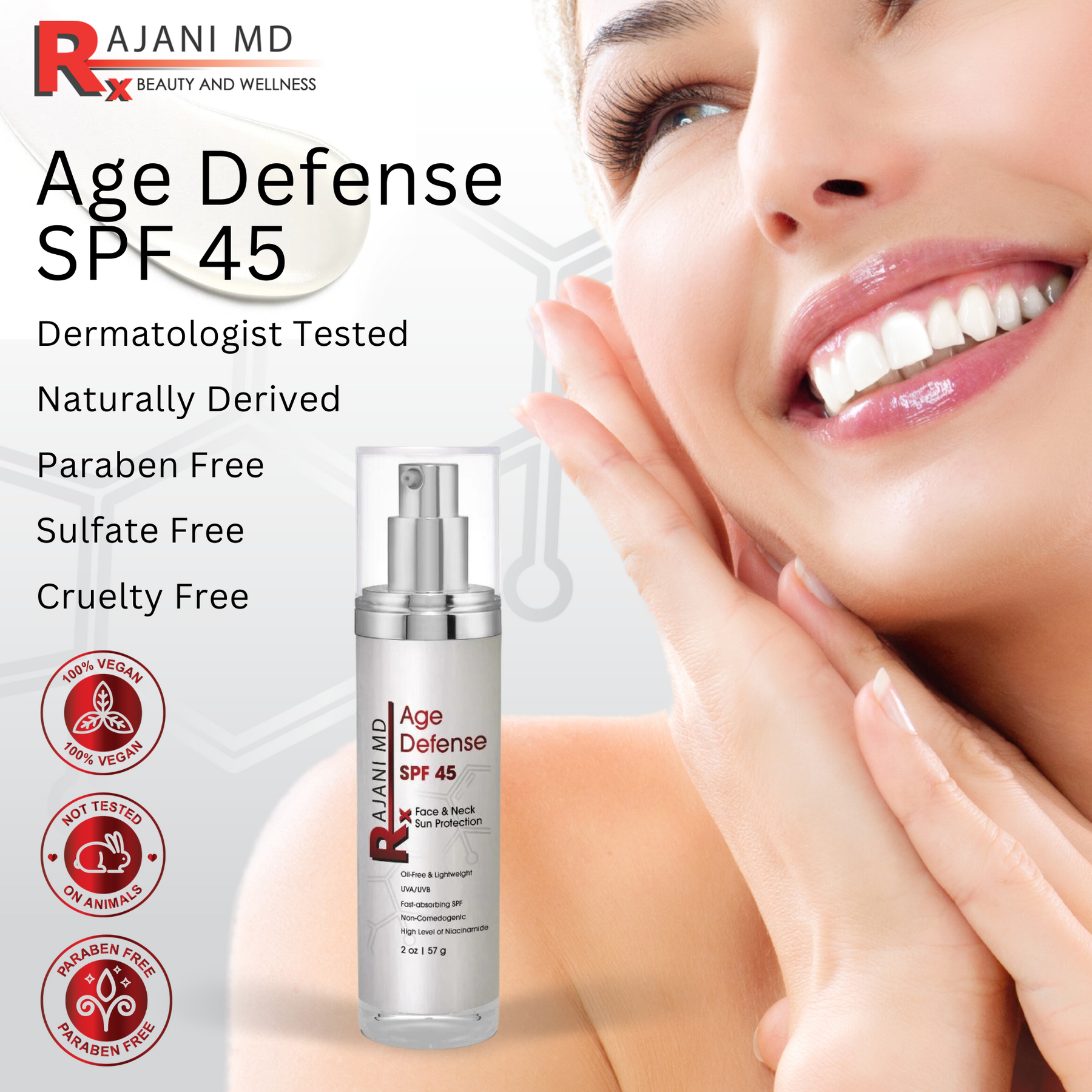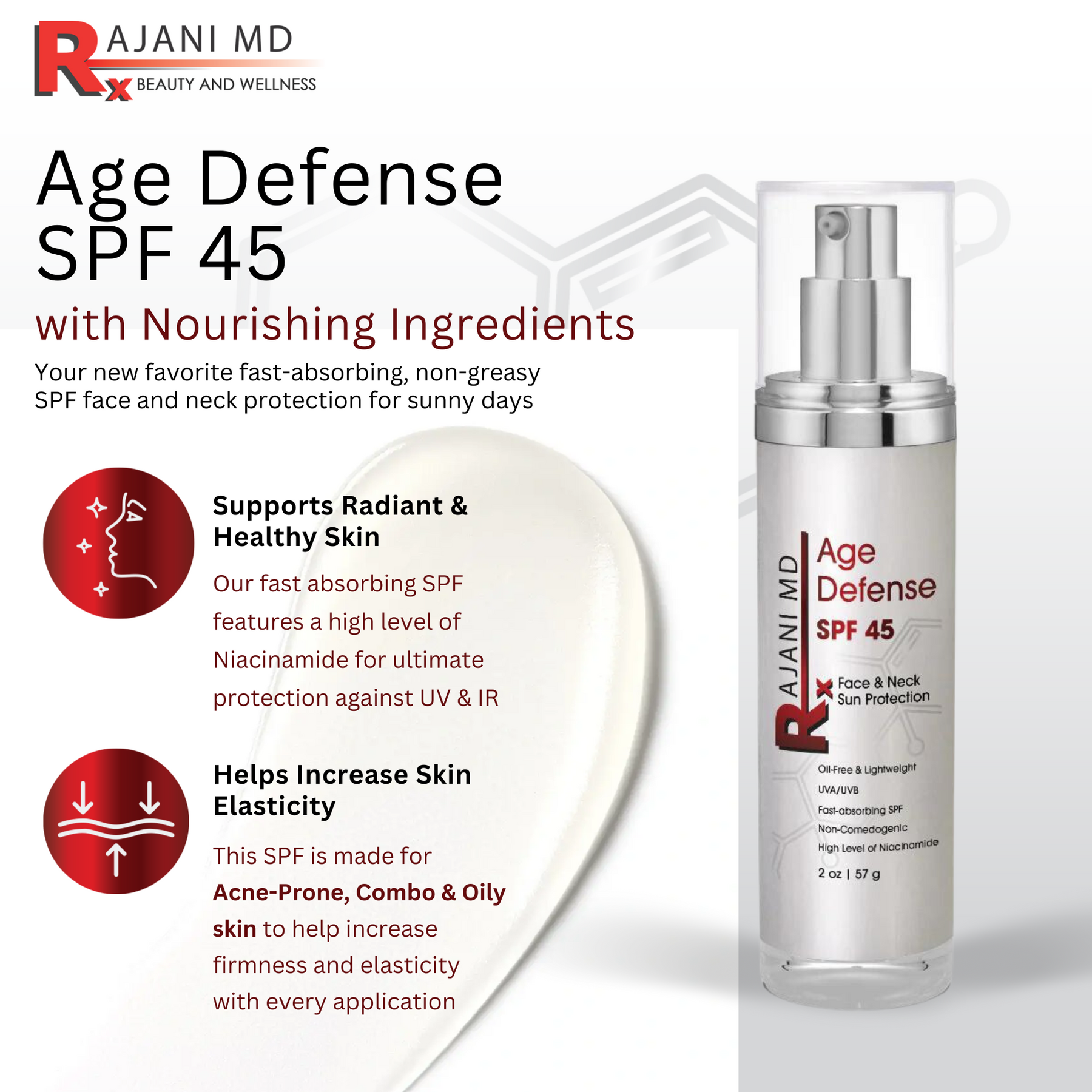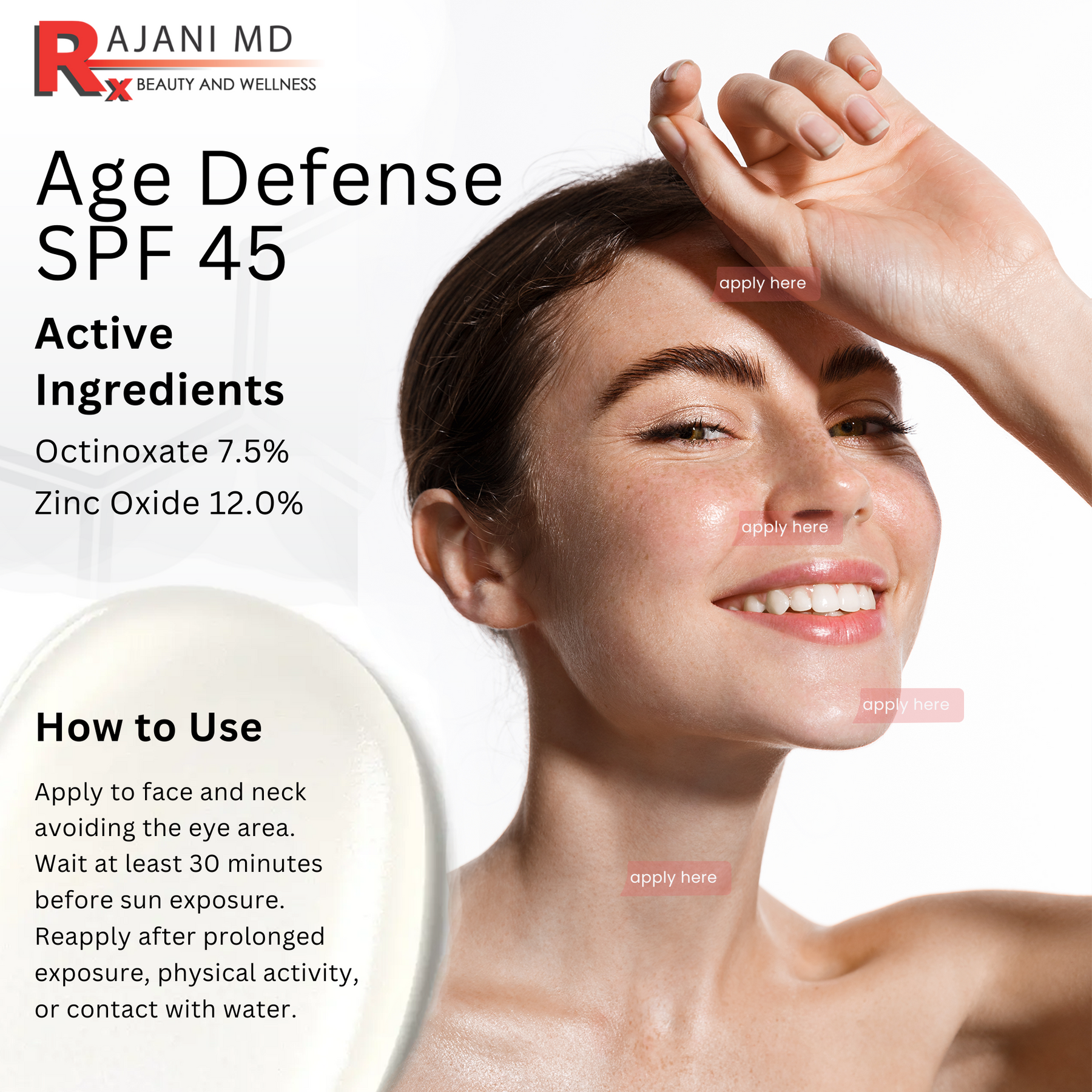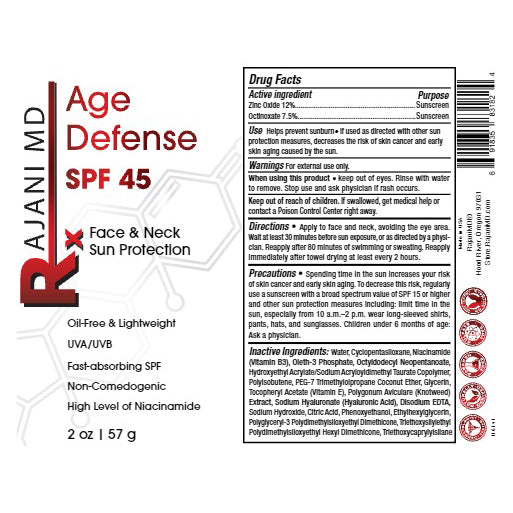 Age Defense SPF 45
Age Defyiing SPF 45 ::
Your new strategy in sun protection

Benefits ::
Protects skin from multiple extrinsic factors known to cause premature aging and promotes a smoother, clearer complexion
UVA/UVB

High level of protection

Fast-absorbing SPF featuring a high level of Niacinamide

Reduces redness and blotchiness

Increases firmness and elasticity

Lightweight, leaves no residue

An innovative new way to protect the skin against UV and IR

UVA and UVB broad spectrum protection
Age Defense SPF 45 contains an innovative blend of active ingredients. Protecting skin from multiple extrinsic factors known to cause premature aging, including UVA, UVB & Infrared Radiation. Delivering a new strategy in sun protection, Age Defense SPF 45 will provide the highest possible level of protection while restoring youthfulness to the skin. Derived from Knotweed Extract, our botanically-based active is the first of its kind, preventing damage from infrared radiation, which is believed to be just as detrimental to skin health as UVA & UVB. This fast-absorbing SPF also features a high level of Niacinamide to promote a smoother, clearer complexion.
RECOMMENDED SKIN TYPES

ACNE
COMBO
OILY

2 OZ :: 57G
HOME CARE
Apply to face & neck avoiding the eye area. Wait at least 30 minutes before sun exposure, or as directed by a physician. Reapply after prolonged exposure, physical activity. perspiration or contact with water.
INGREDIENT HIGHLIGHTS:
Niacinamide (Vitamin B3), Tocopheryl Acetate (Vitamin E), Polygonum Aviculare Extract (Knotweed Extract), Sodium Hyaluronate (Hyaluronic Acid)

ACTIVE INGREDIENTS
Zinc Oxide 12.0%, Octinoxate 7.5% INACTIVE INGREDIENTS
Water, Cyclopentasiloxane, Niacinamide Vitamin B3). Oleth-3 Phosphate, Octytdodecyt Neopentanoate, Hydroxyethyt Acrylate/Sodium Acryloyldi-methyl Taurate Copolymer, Polyisobutene, PEG-7 Trimethylolpropane Coconut Ether. Glycerin, Tocopheryl Acetate (Vitamin El. Polygonum Aviculare (Knotweed) Extract, Sodium Hyaluronate (Hyaluronic Acid), Oisodium EDT& Sodium Hydroxide, Citric Acid, Phenoxyethanot, Ethythexyl-glycerin Polyglyceryl-3 Polydimethylsiloxyethyl Dimethicone, Triethoxysi-lytethyl Polydimethylsiloxyethyl Hexyl Climethicone.Triethoxycaprytylsilane